Lilly Chagrin
Last year, the
Lilly Pulitzer
(my fave designer brand EVEREVEREVER)
Endless Summer Sale took me by surprise. I missed the opening morning, but I
still found great buys
...
twice
! This year? I was READY! I even had two days notice to churn over it,
thanks to FB
. :-D ;-) :-P
Honestly, I wasn't
too
hurried this morning; I mean, I was a day late last year and found awesome stuff...so I took my time before
teaching Zumba
. BAD MOVE!!! I only gave myself 20 minutes (thinking I was being smart, giving myself a built-in Zumba curfew) ...but the site kept crashing. And what's worse? I actually DID get to see four AMAZING DRESSES at AMAZING PRICES that I
reallyreallyreally
wanted! I tried to put them in my online tote bag (shopping cart) for fear they'd be gone when I could get back home over 3 hours later, but the site wouldn't let me check out! :'( [I'm not the only Lilly lover who experienced these woes; their poor FB wall was lit up with ladies losing their lids. :-P :-D] They apologized & thanked us all for overloading their system...but I still lost all four dresses. Wah wah. I know it's stupid to mourn over clothes I can absolutely do without
#firstworldproblems
;-) but I hate that I saw those were really available at one point, and I missed them.
Did I get
anything
when I got home this afternoon?
Yeah.
The Kaley Dress in Pansy Purple Boat Party Stripe: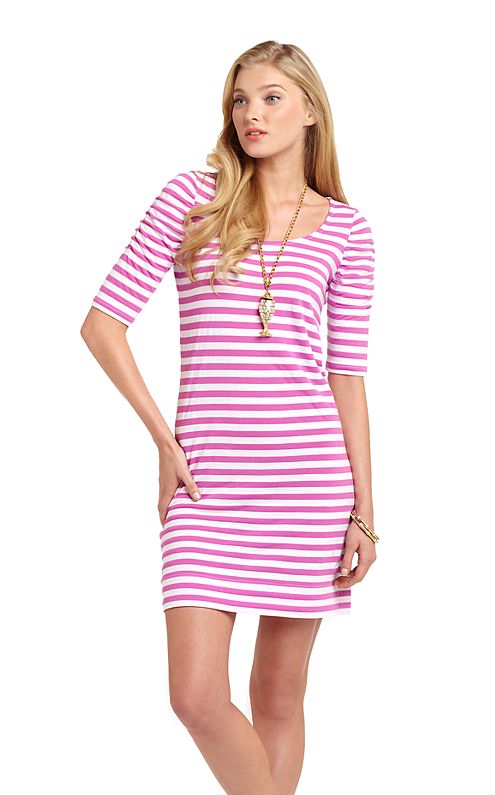 The Cassie Dress in Pretty Pink Dot Dot Dot:
Both $30 down from $100.
They are both what I've been looking for - dresses w/ sleeves that I can wear here year-round. Practical, and no more than I'd pay at Old Navy but for Lilly brand. I am happy with them.
...But they
*don't*
sport a signature Lilly print. That's my only reservation. The amazing prints are *THE* thing I love about Lilly. I'm trying
really hard
now to forget seeing that
Cassie Dress this morning in "Sand Bar Blue Spike The Punch"
...