Gelish + Silhouette: Monogram Pedicure and Monogrammed Top
Monogram-o-rama makes me happy!!! Y'all know I can't get enough...and now I have taken my monogram obsession to a whole new level. I have given myself a monogram pedicure.
Yes, I have! Proof positive:
How did I do this? I used my
Silhouette Cameo
to cut my monogram out of vinyl (~1"?) I gave myself a standard
Gelish
polish job using
"Izzy Wizzy Let's Get Busy"
(a transparent iridescent shimmer - slightly more action than a clear coat, but not enough to compete with the hot pink monogram for this first foray ;-)) and stuck the vinyl monogram sticker on there right before the top coat, to sandwich it in. I am SO PLEASED with how this turned out & the overall technique. I might try other tiny designs for an accent nail, esp. for team spirit manis or pedis, in the future.
Y'all are privy to the first sneak peek...b/c no one else will see my toes until it warms up, again. Texas winter of last year, (i.e. 70°F!) where are you???
I've also been inundated with questions about my monogrammed pullover in the
Disney
pics:
My mom brought it as my early Christmas present! Can you imagine anything more perfect?!?!?! Aside from the fact that it was invaluable during the colder-than-we-prepared-for vacay, it is soooo *ME*! The fabric in the appliqué is my beloved
Lilly Pulitzer
in Dream Weaver: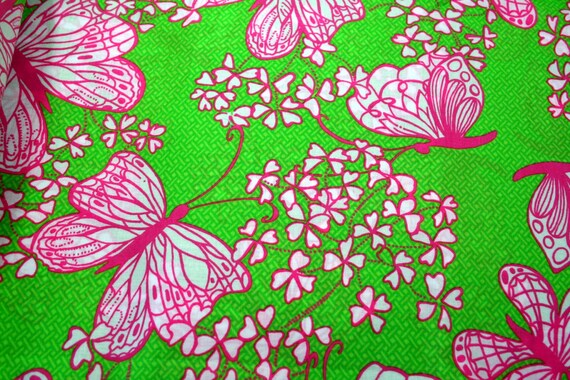 She had it done at a monogram shop in Charlotte...and I've
got
to get another! :-D My new winter uniform! ;-) ♥ ♥ ♥