"The Help" Southern Movie Experience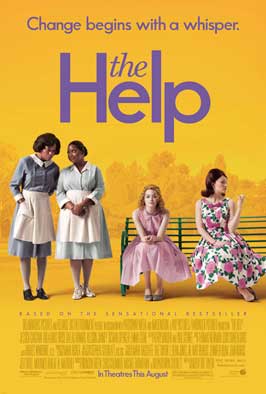 Y'all know I have been waiting to see the
big screen version
of
The Help
for
ages
, and yesterday was FINALLY the day! A fun irony: I went with my new Junior League friend, Tiffany. (If you're not familiar,
Junior League
plays a role in the story, although today's JL has certainly evolved, as has our society, over the last 40 years.)
Another "only in the South" twist: Tiffany
already knows
JB!!! (They worked together here until she went to a different company this summer!) We discovered this after the showing we had planned for was sold out, so we killed two hours chatting at
Mellow Mushroom
. I am telling you, this stuff happens to me
all the time
in the South and never once in 5 years up north. I can't think of a single round of "do you know?" that produced mutual acquaintances b/t me & new friends there; and it's not just b/c the South is my home. My
real
home is 6-7 hours away [not "close"], and we have no college connections here, either. But there is just something about the South that fosters these associations - the openness? The willingness to share our lives & personal business, as opposed to the more private, personally reserved tone I felt up north? [I acknowledge I am making sweeping generalizations; there are
always
exceptions (MOPS! NCC! :-))...but stereotypes stick for a reason.] Tiffany & I didn't stop gabbing for 2 seconds while we waited at
Mellow Mushroom
. It was such a blessing in disguise to be delayed, b/c we really got to know each other. (We had only said "Hi!" to each other last weekend at the JL council retreat; we made our "date" over our JL FB page, just b/c we had both mentioned wanting to see this movie. :-)) We talked in-depth re: work, college, family planning, and
esp
. religion! (More
Southerners being open about spirituality
! :-D) I truly can't imagine this kind of 1st-time-meeting-you convo taking place outside the South. But honestly, what's the point of life if you're not connecting & investing in others? Why hold back & exist in a private bubble? I love everyone knowing all of my details, b/c when people truly know me, we can go forward together with genuine ease.
After spilling our guts, we headed back to the theatre for our show: it was AWESOME! Technical notes: it was so well cast, and I think reading
the book
first HELPED! I would actually recommend reading the book
before
seeing the film, (if you ever plan on reading it. If not, just get to the movies ASAP! :-D) They stayed pretty true to the book, and the few changes didn't feel like travesties; it was obvious they just made the timing flow better. The film also wrapped up a little neater than the book ended.
It's almost hard to believe that this film was regular life just one and a half generations ago. ("Half", b/c Skeeter & friends are about 10 years older than my mom, and when you talk about the difference b/t being 23 in 1963 vs. 1973, that is a significant social & cultural change! Talk about a different world view!) I have to say, I felt really blessed to have the viewing experience I did. The theatre was filled [sold out, again!] with black & white women, all intermingled, and we *all* expressed the
exact same
emotions & reactions throughout. I think audiences (&
book
readers) in other parts of the country may have a more detached experience, viewing the setting as "somewhere else" instead of "home". One of my favorite sociology classes at
Davidson
was "Ethnic Relations", and our professor [
Dr. Nancy J. Fairley
], through various methods over the semester, made it crystal clear to all of us that regional differences are truly much stronger dividing lines than racial ones. I thought about that class last night during the film, sitting beside these two sweet black women, with whom I know I have more shared cultural understanding than some other white, middle class, educated, young 30's mom in a different part of the country. The whole film
and its viewing
were a fascinating sociological experience that I am treasuring.